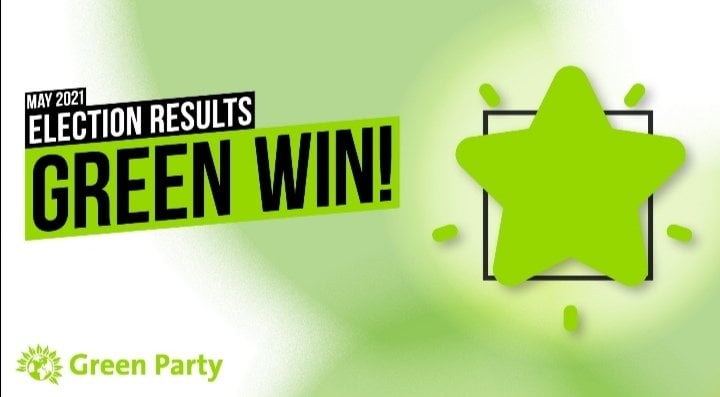 As Local Election results come in across the Region, there have been a number of good results for local residents as more Green Councillors are elected.
We can celebrate wins in Durham, Northumberland and South Tyneside. These wins mean that we have doubled our number of Elected Representatives in the Region.
We can also celebrate some great results, even where we did not win a seat, as we increased vote share and beat other Parties to become the nearest challenger to the incumbent.
Full details can be found via your Local Party, and selected results are shown below.
Thank you to everyone who has supported campaigns across our Region – and also to everyone who voted Green.
Darlington
Darlington Green Party contested Hummersknott Ward at a by-election, delayed from 2020.
Thomas Robinson received 42% of the vote, meaning a jump from fourth to second and cutting the Conservative majority to just 162 votes.
Durham County
Jonathan Elmer was elected in Brandon as the first choice candidate, taking 21.9% of the vote. Priscilla Elmer almost joined Jonathan, missing out to Labour by just 114 votes.
However, both Jonathan and Priscilla were elected to Brandon Parish Council.
Rupert Friederichsen was elected to City of Durham Parish Council.
Gateshead
Diane Cadman increased the Green vote share to 31.8% in Crawcrook and Greenside, finishing comfortably ahead of the Conservatives. Diane continues to chase down the Labour incumbent, who has seen their majority cut to just 321.
Hartlepool
The National focus has been on the By-Election, where Rachel Featherstone had a good result, finishing behind Conservatives and Labour, but ahead of 10 other candidates, including the Liberal Democrats and the Northern Independence Party.
Newcastle
Tay Pitman took second place in West Fenham, ahead of Conservatives, Liberal Democrats and Newcastle Independents – doubling the vote share despite fierce competition from the other parties.
Northumberland
Northumberland County Council has its first Green County Councillors. Nick Morphet (Humshaugh) and Martin Swinbank (Alnwick) comfortably won their seats.
Michelle Brannigan had a good night in Ashington, beating the Conservatives to take second place for County Councillor, and cutting the Labour majority from 550 to just 287. At local level, Michelle was elected to Town Council.
In Morpeth, Elaine Skinner and Elisa Lawson were elected to the Town Council.
North Tyneside
Alan Steele took 28% of the vote in Whitley Bay, finishing second and comfortably beating the Conservatives and Liberal Democrats.
Penny Remfry doubled the Mayoral vote share, finishing third (but with a very strong second preference vote share).
South Tyneside
David Francis has been joined by two more Greens on South Tyneside Council.
Sue Stonehouse joins David representing Beacon & Bents Ward, taking 46.5% of the vote.
Peter Bristow also joins the growing ranks of Green Councillors, winning 51.2% of the vote in West Park.
Sunderland
Sunderland Greens worked hard, and had some good results increasing overall vote share by 1.2%, but were faced with a strange mix of results – possibly explained by a City still split over the Brexit issue.